Robbert Creton, PHD
Edit My Page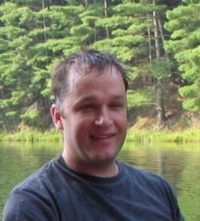 Title: Associate Professor of Medical Science (Research)
Department: Molecular Biology, Cell Biology, & Biochemistry
Robbert_Creton@brown.edu
401-863-9646
Overview | Research | Grants/Awards | Teaching | Publications
Research in the Creton laboratory is focused on brain development and behavior, using zebrafish as a model system. The studies aim to provide a better understanding of the basic biological mechanisms that regulate brain development and contribute to the prevention of human developmental brain disorders.
Biography
Robbert Creton received his B.S. in Biology (1990) and Ph.D. in Developmental Biology (1994) from the University of Utrecht in the Netherlands. He completed his post-doctoral training in developmental physiology at the Marine Biological Laboratory in Woods Hole, Massachusetts, and was appointed as an investigator at Women & Infants Hospital of Rhode Island. At present, Robbert Creton is appointed as Associate Professor (Research) at Brown University, where he directs the Bioimaging Facility and studies brain development and behavior using zebrafish as a model system.
Research Description
Large-scale mutagenesis screens in zebrafish have revealed a network of genes that drive early embryonic development. The dynamics of this network is only partly understood. In particular, it is not clear how signals are coordinated over longer distances within the embryo. Our laboratory tests the hypothesis that calcium signals play a role in coordinating multiple signaling pathways during early development. Calcium signals can spread rapidly over long distances within the embryo and are capable of regulating a wide variety of cellular processes, including secretion, cell motility, and gene expression. We recently found that calcium signaling during gastrulation plays a critical role in the development of left-right asymmetry in the zebrafish brain. We aim to better understand the underlying mechanisms and aim to identify genetic and environmental factors that cause asymmetry defects in the developing brain.
Awards
1993 Spiegel fellow
1995 NATO fellow
Affiliations
Society for Developmental Biology, member, 2003-present
Society for Neuroscience, member, 2003-present
Funded Research
NIH R01 HD060647 03/01/2010 - 01/31/2015
Brain defects induced by embryonic exposure to modulators of calcium signaling. The goal of this project is to better understand the basic mechanisms by which modulators of calcium signaling affect brain development. R. Creton is the PI on this project.

NSF IBN-0421654 08/01/04 - 07/31/07
Calcium signaling in the developing zebrafish brain. The goal of this project is to better understand the mechanisms regulating brain regionalization during early embryonic development, using zebrafish embryos as a model system. R. Creton is the PI on this project.

The Rhode Island Foundation 01/25/05 - 12/31/06
The role of HDACs in zebrafish heart development. The goal of this project is to determine the presence and role of histone deacetylases in cardiac development. R. Creton is the PI on this project.
Courses Taught
Ultrastructure / Bioimaging (BI0206)
View My Full Publication List in pdf format
Selected Publications
Kreiling J.A., Balantac Z.L, Crawford A., Ren Y., Toure J., Zchut S., Kochilas L., Creton R. (2008). Suppression of the endoplasmic reticulum calcium pump during zebrafish gastrulation affects left-right asymmetry of the heart and brain. Mech Dev 125, 396-410.(2008)
Kreiling J.A., Prabhat, Williams G., Creton R. (2007). Analysis of Kupffer's vesicle in zebrafish embryos using a cave automated virtual environment. Dev. Dyn. 236, 1963-1969.(2007)
Kreiling J.A., Creton R, Reinisch C. (2007). Early embryonic exposure to polychlorinated biphenyls disrupts heat-shock protein 70 cognate expression in zebrafish. J Toxicol Environ Health A. 70, 1005-1013.(2007)