Richard Bennett
Edit My Page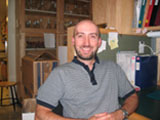 Title: Associate Professor of Biology
Department: Molecular, Microbiology & Immunology
Richard_Bennett@brown.edu
+1 401 863 6341
Overview | Research | Grants/Awards | Teaching | Publications
My laboratory is interested in understanding the biology of the human pathogen Candida albicans. C. albicans is a yeast that grows in the human gastrointestinal tract and is usually harmless to humans. However, in some cases, Candida can cause localized infections in healthy individuals and even life-threatening systemic (bloodstream) infections in immunocompromised individuals. The focus of the laboratory is to understand how Candida acts as a pathogen in humans.
Biography
Dr. Bennett is an Assistant Professor in the department of Molecular Microbiology & Immunology. His research interests are the biology of the fungal pathogen, Candida albicans, and in particular it's mechanism of sexual reproduction. Studies in the lab have focused on the lack of a true meiosis in this species, as well as its ability to undergo a novel form of self-mating. A long term goal of the laboratory is to develop the sexual cycle to facilitate genetics in this organism. Dr. Bennett was an undergraduate at Cambridge University, and did his PhD at the Imperial Cancer Research Fund in the UK. He did postdoctoral studies at Harvard University and at the University of California, San Francisco, prior to starting his own laboratory at Brown.
Research Description
My laboratory is focused on studying the newly identified sexual cycle of Candida albicans. There are a number of interesting aspects to mating in C. albicans, including the role of 'phenotypic switching', in which cells can reversibly switch their morphology between specialized forms called 'white' and 'opaque'. While white cells are more virulent in models of systemic infection, only opaque forms are competent to mate. We are currently investigating the idea that this unique adaptation has arisen to allow mating to occur in the hostile environment of the mammalian host.

A second unusual feature of the C. albicans sexual cycle is that while mating occurs efficiently, no meiotic pathway has been identified yet. Meiosis is a conserved process in which DNA replication is followed by two successive DNA divisions, effectively halving the DNA content in the cell. In its place, we have discovered that efficient non-meiotic chromosome loss can be induced in C. albicans, thereby completing a simple sexual cycle in the organism. Both the mechanism of chromosome loss and the role of the sexual cycle in infection of the host are under investigation. For example, one model we are presently testing is that the mixing of chromosomes during the mating cycle generates strains with increased genetic diversity. These new strains could contribute directly to virulence by generating bursts of genetic diversity that aid in fitness in infection.
Awards
Burroughs Wellcome Fund Investigator in Infectious Disease, 2008-2013
Human Frontier Science Program Fellow, 1997-1998
Damon Runyon-Walter Winchell Foundation Fellow, 1996
Ph.D., Imperial College, London, 1995
M.A., Cambridge University, 1992
1st Class Honors Degree, Natural Sciences, B.A., Cambridge University, 1991
Affiliations
American Society of Microbiology
American Society of Cell Biology
Genetics Society of America
Funded Research
Current Funding
7/1/10 – 6/30/15 NIH RO1
Pheromone signaling, Sex, and Virulence in Candida albicans.

7/1/08 - 6/30/17, Burroughs Wellcome Fund
Phenotypic Variation and Host Adaptation by the Human Fungal Pathogen Candida albicans.

8/1/10 - 7/31/14 NSF
Mating, Self-Fertility, and Meiosis in Yeast.

Completed Funding
7/1/09 - 6/30/11, NIH R21
Phenotypic Switching in Candida albicans and its Role in Pathogenesis.

9/1/10 – 8/31/11 Brown-Woods Hole Collaborative Seed Grant (co-PI)
Fungal RNA viruses and genome defense.

9/15/10 – 8/31/11 NIH R56
Parasexual Reproduction and Biofilm Formation in Candida albicans

3/1/08 – 2/28/09, Brown Seed Grant
"Molecular Analysis of a Bistable Switch in the Pathogen Candida albicans".

1/1/08 – 12/31-08, Center for AIDS Research Developmental Award
"Phenotypic switching in the opportunistic pathogen Candida albicans".

2/1/07 – 1/31/08, Richard B. Salomon Faculty Research Award.
"Genetic and epigenetic variation in the human pathogen Candida albicans".

01/01/2006 - 12/31/2006, Rhode Island Foundation Grant.
"How does the mating cycle of Candida albicans contribute to its success as a human pathogen".
Teaching Experience
BI0510 Introduction to Microbiology
This course introduces undergraduate students to the world of microbes, including bacteria, viruses, and fungi. Students learn about the basic molecular properties of microbes, as well as their role in everyday life.
Courses Taught
Introduction to Microbiology (BIO510)
View My Full Publication List in pdf format
Selected Publications
Hickman, M.A., Zeng, G., Forche, A., Hirakawa, M.P., Abbey, D., Harrison, B.D., Wang, Y-M., Su, C., Bennett, R.J., Wang, Y., and Berman, J. (2013) The 'Obligate Diploid' Candida albicans Forms Mating-Competent Haploids. Nature, 494:55-9.(2013)
Si, H., Hernday, A.D., Hirakawa, M.P., Johnson, A.D., and Bennett, R.J. (2013) Candida albicans White and Opaque Cells Undergo Distinct Programs of Filamentous Growth. PLoS Pathogens, 9: e1003210.(2013)
Porman, A.M., Hirakawa, M.P., Jones, S.K., Wang, N., and Bennett, R.J. (2013) MTL-Independent Phenotypic Switching in Candida tropicalis and a Dual Role for Wor1 in Regulating Switching and Filamentation. PLoS Genetics, 9: e1003369.(2013)
Lin, C-H, Kabrawala, S., Fox, E.P., Nobile, C.J., Johnson, A.D., and Bennett, R.J. (2013) Genetic Control of Conventional and Pheromone-Stimulated Biofilm Formation in Candida albicans. PLoS Pathogens, 9: e1003305.(2013)
Shintaku, T., Glass, K., Hirakawa, M.P., Longley, S., Bennett, R.J., Bliss, J., and Shaw, S. (2013) Human endothelial cells internalize Candida parapsilosis via N-WASP mediated endocytosis. Infection and Immunity, 81: 2777-2787.(2013)
Papon, N., Courdavault, V., Clastre, M., and Bennett, R.J. (2013) Emerging and emerged pathogenic Candida species: beyond the Candida albicans paradigm. PLoS Pathogens. in press.(2013)
Alby, K., and Bennett, R.J. (2011) Inter-species pheromone signaling promotes biofilm formation and same-sex mating in Candida albicans. Proc. Natl. Acad. Sci. U. S. A, 108: 2510-5.(2011)
Jones, S.K. and Bennett, R.J. (2011) Fungal Mating Pheromones: Choreographing the Dating Game. Fungal Genetics and Biology. 48: 668-76.(2011)
Bennett, R.J. and Nielsen, K. (2011) Book chapter on "Discovery of Extant Sexual Cycles in Pathogenic Fungi: Roles in Generation of Diversity and Virulence" in "Evolution of Virulence of Eukaryotic Microbes". In Press.(2011)
Lin, C.H., Choi, A.C., and Bennett, R.J. (2011) Defining Pheromone-Receptor Signaling in Candida albicans and Related Asexual Candida Species. Molecular Biology of the Cell. 22: 4918-30.(2011)
Porman, A.M., Alby, K., Hirakawa, M.P., and Bennett, R.J. (2011) Discovery of a Phenotypic Switch Regulating Sexual Mating in the Opportunistic Fungal Pathogen Candida tropicalis. Proc. Natl. Acad. Sci. U. S. A. Dec 8, epub.(2011)
Alby, K., and Bennett, R.J. (2010) Sexual Reproduction in the Candida clade: cryptic cycles, diverse mechanisms, and alternative functions. Cell. Mol. Life Sciences. 67: 3275-3285.(2010)
Alby, K., Schaefer, D., Sherwood, R.K., and Bennett, R.J. (2010) Identification of a cell death pathway in Candida albicans during the response to mating pheromones. Eukaryotic Cell. 9: 1690-1701.(2010)
Bennett, R.J., and Dunny, G.M. (2010) Analogous Telesensing Pathways Regulate Mating and Virulence in Two Opportunistic Human Pathogens. mBio. 1: e00181-10.(2010)
Bennett, R.J. (2010) Coming of Age – Sexual Reproduction in Candida species. PLoS Pathogens (Pearl). 6: e1001155.(2010)
Alby, K. and Bennett, R.J. (2009) Stress-Induced Phenotypic Switching in Candida albicans. Mol. Biol. Cell. 20: 3178-91.(2009)
Bennett, R.J. (2009) A Candida-based view of fungal sex and pathogenesis. Genome Biology 10:230.(2009)
Alby, K., Schaefer, D., and Bennett, R.J. (2009) Homothallic and Heterothallic mating in the opportunistic pathogen Candida albicans. Nature 460:890-893.(2009)
Alby, K. and Bennett, R.J. (2009) To Switch or Not to Switch? Communicative and Integrative Biology. 2:6, 1-3.(2009)
Sherwood, R. and and Bennett, R.J. (2009) Fungal Meiosis and Parasexual Reproduction - Lessons from Pathogenic Yeast. Current Opinion in Microbiology. 12: 599-607.(2009)
Ene, I., and Bennett, R.J. (2009) Hwp1 and Related Adhesins Contribute to Both Mating and Biofilm Formation in Candida albicans. Eukaryotic Cell. 8: 245-249.(2009)
Bennett, R.J. (2009) A microbiologist wonders what turns us on? Journal Club. Nature, 461: 15.(2009)
Forche, A., Schaefer, D., Alby, K., Johnson, A.D., Berman, J. and Bennett, R.J. (2008) The Parasexual Cycle in Candida albicans Provides an Alternative Pathway to Meiosis for the Formation of Recombinant Strains. PLoS Biology. 6: e110.(2008)
Sherwood, R.K., and Bennett R.J. (2008) The Microtubule Motor Protein Kar3 is Required for Normal Mitotic Division and Morphogenesis in Candida albicans. Eukaryotic Cell. 7: 1460-1474.(2008)
Schaefer, D, Cote, P, Whiteway, M, and Bennett, RJ (2007) Barrier Activity in Candida albicans Mediates Pheromone Degradation and Promotes Mating. Eukaryotic Cell. 6: 907-918.(2007)
Bennett, RJ, and Johnson, AD (2006) The role of nutrient regulation and the Gpa2 protein in the mating pheromone response of C. albicans. Mol. Microbiol. 62: 100-119.(2006)
Bennett RJ, Miller MG, Chua PR, Maxon ME, Johnson AD. Nuclear fusion occurs during mating in Candida albicans and is dependent on the KAR3 gene. Mol Microbiol. 2005 Feb;55(4):1046-59.(2005)
Bennett RJ, Johnson AD, Mating in Candida albicans and the Search for a Sexual Cycle. Annu Rev Microbiol. 2005 May 23.(2005)
Bennett RJ, Keck JL. Structure and function of RecQ DNA helicases.Crit Rev Biochem Mol Biol. 2004 Mar-Apr;39(2):79-97. Review.(2004)
Bennett RJ, Uhl MA, Miller MG, Johnson AD. Identification and characterization of a Candida albicans mating pheromone. Mol Cell Biol. 2003 Nov;23(22):8189-201.(2003)