Research Opportunities Database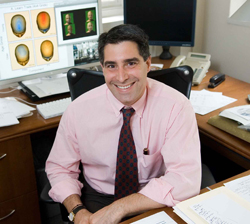 Peter Snyder
Professor of Neurology (Research)
Department: Neurology
Phone: +1 401 444 4117
Email: Peter_Snyder@brown.edu
Location:
401-444-4117; psnyder@lifespan.org
Research Summary
Development of biomarkers to assist in identifying older adults who are at high risk for Alzheimer's Disease, early during the prodromal phase of the illness (several years, at least, before clinical onset). Exploring how to pair appropriate cognitive assays with pharmacologic challenges, to create a cognitive "stress test" that is analagous to a cardiac stress test.
Conduct neuropharmacologic clinical trials in AD and mild cognitive impairment. Research and write on scientific research ethics and in the history of the neurosciences.
Past or Present Projects Available:
2010: Undergraduate Honours project on Darwin's early research on the expression of emotion in patients with psychiatric illness (this resulted in a peer-reviewed publication, as well as a poster at an international conference).